No worm-ridden son-of-a-bitch is going to stop us.
— Hoffman
Howard Robert Hoffman is one of the ten playable Cleaners in Back 4 Blood. He is a well-organized and conscientious doomsday prepper who seeks to prove his worth and be accepted as a member of the team.
Official description
A meticulous individual, enthusiastic prepper, and conspiracy theorist. When the infection hit, he and his mother hunkered down and rode out the storm as the rest of the world fell into chaos. After his mother passed away in her sleep and his supplies ran out, he left his boarded-up house to face the world of the Devil Worm. Howard Robert Hoffman is genuinely skilled and good hearted, with an earnest desire to be a useful part of the team. As part of the Cleaners, he's finally come across the family that he's always wanted—he just had to wade through the zombie apocalypse to find it.[1]
Traits
The following traits are being granted to Hoffman with his Cleaners card:
ALWAYS PREPARED
Hoffman has a chance to find ammo or Offensive Accessoiries when killing Ridden.
CARGO POCKETS


+ 15% Max Team Ammo Capacity
READY TO ROCK
+ 1 Offensive Inventory
NEVER WITHOUT
Start with an Ammo Pouch
Appearance
Hoffman wears glasses, a red button up shirt with a cargo vest on top. He has green pants, kneepads, brown boots, and a tactical belt.
Developer comments
In the video "Back 4 Blood - Breakdown of All 8 Playable Characters (Meet the Cleaners)"[2] by media news outlet IGN lead writer Simon Mackenzie and co-founder and creative director Phil Robb at Turtle Rock Studios did a breakdown of all eight playable Cleaners in Back 4 Blood.
The following quotes are shortened versions of the comments they've made about Hoffman's character:
I kinda love Hoffman. The more I drilled into him the more kind of like sort of like neuroses I gave him.

He kind of started off: He is prepared. He has been kind of almost waiting for the apocalypse his whole life. The only thing he want is he wants his parents to be proud of him. So he kind of has these kind of like as a middle-aged man goes back to kind of this wanting acceptance by everybody. Hoffman is one of my favorites and he's voiced by the incredible William Salyers as well.

And just...yeah I mean...what is not to love about Hoffman, really?
— Simon Mackenzie, Lead Writer at Turtle Rock Studios
As far as like him being a prepper his special ability is he can carry more stuff.

He's the guy that you can sort of build almost like a mule type of character.

He has extra utility slots and things like that.
— Phil Robb, Co-Founder/Creative Director at Turtle Rock Studios
My partner's father is actually a prepper in Ohio so I kind of knew a lot of the stories and stuff like that.

I actually didn't base Hoffman on that, I based Hoffman's dad [on that] and what the type of that kind of upbringing does to him. So it's like "Hey, you know how to strip and clean the gun." and stuff like that and just wanting kind of like that kind of acceptance and Hoffman was never the type of guy that his dad wanted him to be.

You know so he ended up being like an accountant and stuff but it's always comes from real people.

And it's more of a gestalt entity rather than one person so like take a little bit of this, a little bit of that and kind of blend them together. And then you kind of have this unique individual that comes out.
— Simon Mackenzie, Lead Writer at Turtle Rock Studios
In the recent "Turtle Rock Studios Back 4 Blood Art Blast"[3] on artstation.com character concept artist Gue Yang shared information about the design of Hoffman's appeareance.
Hoffman was fun and another simple concept past for his archetype :)
— Gue Yang, Character Concept Artist
Journal entry
Hoffman's journal entry has been shared on the Back 4 Blood Twitter account on July 30th, 2021.[4]
Nobody laughs at H.R. Hoffman anymore. True it took most of humanity being wiped out to prove my point, but who's laughing now? Very few people, if truth be told, but it doesn't make me any less right.

Just a shame my mother never lived to seethe day her boy would be standing proud, fighting for humanity. God rest her soul, honestly I'm glad she never saw the world like this. She always saw the best in people. If I have one thing to live up to it's her integrity and faith in me...okay that's two, but my point remains and I'd like to believe that's what Phillips sees in me too.

I'm a Cleaner now and damn proud of it. The others, well once they know what I know, they'll come around...the truth is out there my friends and I will get to the bottom of this. But in the meantime, I'll take down every Ridden that sticks its worm infested face in front of me.
— Hoffman's journal
Notes
Gallery
Sources
Speedo Hoffman is a fan-requested concept that has been embraced and celebrated by the community and Turtle Rock Studios in a variety of ways.
What started out as a request for a skin has evolved over time into an integral part of Back 4 Blood as well as Turtle Rock Studios itself and is now deeply rooted in the culture of the community and the development team.
Origins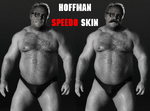 On August 5, 2021, Discord user Legend8K60FPS made the following request, along with an image, in the #b4b-fanart text channel of the official Turtle Rock Studio Discord server:
Plz give hoffman a mustache
And a shirtless skin and a speedo one too
— Legend8K60FPS requesting the "Hoffman Speedo" skin
This idea was taken up by Discord user Daddy on August 7, 2021 and visualized.
The reactions to this concept were very positive and a few developers found it amusing that in this representation Hoffman doesn't have a belly button and has been used in countless conversations regarding this skin idea.
Speedo Hoffman as a Meme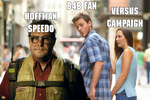 Over time, a simple idea transformed into a meme, which was used, among other things, to tease angry users on social networks who demanded that Turtle Rock Studios implement a so-called Versus Campaign Mode in the game where the Cleaners can play the campaign while being attacked by players who take control of the mutations. The meme uses the Distracted boyfriend Internet meme based on a 2015 stock photograph by Barcelonian photographer Antonio Guillem.
Continuation of the Speedo Hoffman Saga
This hype did not escape the eyes of notable figures from the development team, such as President and General Manager Steve Goldstein, Co-Founder and Creative Director Phil Robb, as well as other studio employees and content creators, who gradually spoke out about Speedo Hoffman or even contributed to its realization.
This section lists key events in chronological order.
On the official Turtle Rock Studios Discord server Steve Goldstein, President & General Manager of Turtle Rock Studios, gave intel about one particular question. Steve, under the username 🐢Stock Photo Steve, has been asked about any news regarding a "Hoffmann Speedo" skin, one of the highest anticipated fan requests, and he gave the following answer on August, 12th 2021:
@🐢Stock Photo Steve a speedo skin would be lovely, too....someday when the team have the time and resources
— Question regarding the "Hoffman Speedo" skin
We were actually talking about a speedo skin this morning. It's so tempting.[1]
— Steve Goldstein, President & General Manager of Turtle Rock Studios
Phil Robb, Co-Founder/Creative Director at Turtle Rock Studios, rekindled hope for the community on the official Turtle Rock Studios Discord server on November 23, 2021 when asked if there will be a summer skin bundle featuring the Hoffman Speedo skin.
A summer skin bundle maybe next year?
— Question regarding the "Hoffman Speedo" skin
No promises but we have discussed a summer skin pack.
NO PROMISES THOUGH! Hahah.[2]
— Phil Robb, Co-Founder/Creative Director of Turtle Rock Studios
On the official Turtle Rock Studios Twitch channel new information regarding the Speedo Hoffman skin were revealed by community manager Rosalynn "🐢burnttoast" Ty on December 17th, 2021.
Originally, the stream with the title "Let's Chat: December 2021 Update!" was addressing the newest additions to the game yet viewers were eager for new intel regarding one particular skin which has been previously known as the "Hoffman Speedo skin". Instead of ignoring the comments, burnttoast was kind enough to answer the community's questions about this iconic skin for Hoffman.
The way things work with work stacks: I could be on a document that should be going live to the public and it's very very important for me to do this. So it's a high priority task. But then somebody comes up and says:

"Hey Rose, I need you to send this email out to make sure that...I don't know...we can ask for permission to have Hoffman in a speedo or something like that. And you need to do that now!"

And I'll be like: "Oh, I gotta do that now!" So I have to work on that and the thing that is extremely important that has to go out to the team that's gets put to the side and then work on that thing (the Speedo Hoffman skin).

It's sort of similar for the rest of development. We have a list of tasks that we need to complete but then you have a gamebreaking thing that needs to be addressed and so that thing (the Hoffman speedo skin) will take precedent.[3]

By the way: According to StockPhotoSteve (Steve Goldstein, President & General Manager), Speedo Hoffman is very expensive so I cannot make any promises that Speedo Hoffman will come into existence.

"Toast we need more Hoffman skins."
Ok. I'll send a note to the team. I can't believe you guys love Hoffman so much. Actually, no I can believe it. He's funny


— Rosalynn Ty, Community Manager at Turtle Rock Studios
In the course of the livestream, the excitement surrounding the Speedo Hoffman skin did not dissipate and once again Community Manager Rosalynn Ty chimed in with more details:
Technically speaking StockPhotoSteve brought this to our attention.

It was not I that brought the Speedo Hoffman to everybody's attention.

"Steve wants the speedo."
No, Steve doesn't want the...I don't know if Steve wants the speedo. Oh no...what have I done. Um...what did you (Steve) say before? The skin is expensive because of Hoffman's back hair...I don't know...said something like that.


— Rosalynn Ty, Community Manager at Turtle Rock Studios
On April 1st, 2022, Turtle Rock Studios shared a glimpse of the Speedo Hoffman skin for the very first time. This character render made by character artist Alex "🐢skills4u2envy" Boatman[4] has received praise by the community shortly after the grand revelation.
On Twitter, this artwork was shared several times and also prominent contributors to the game such as Evangelo's voice actor, Alan Ayala, as well as Hoffman's voice actor, William Salyers, spoke out on this social network.
Alan Ayala shared his thoughts in a tweet:
Bow down before Speedo Hoffman
— Alan Ayala via Twitter[5]
William Salyers was hesitant to do any more performance captures just because of a skin, but he was pleasantly surprised by the unveiling of Speedo Hoffman:
Oh.
My.
God.
— William Salyers via Twitter[6]
Phil Robb, Co-Founder/Creative Director at Turtle Rock Studios also liked the original tweet made by character artist Alex Boatman.
Moreover, this artwork was shared not only on Twitter but also on the Back 4 Blood subreddit where the admiration that was already seen on Twitter was reiterated by the Reddit community. Within no time it was the hottest topic of the day and the popularity thus officially reached the Back 4 Blood community of Reddit, which until then knew nothing about Speedo Hoffman.
On April 7th, 2022, Turtle Rock Studios released the launch trailer for their first expansion, Tunnels of Terror, which received great acclaim worldwide.
However, this didn't stop the Reddit community from getting interested in another topic. A few hours after the trailer's release, a fanart showing H.R. Hoffman in nothing but a speedo[7] managed to eclipse this announcement on Reddit. This fanart is based on a mature version originally made by Twitter user @Daichi_Akimichi.
The buzz didn't die down until the morning of the following day[8] and this positive feedback was undoubtedly a sign of how popular this skin for Hoffman is.
That same evening, renowned Back 4 Blood content creator SwingPoynt, who already in the past made it clear that he likes the idea of Speedo Hoffman[9], made the announcement in his live stream[10] that he was going to launch a campaign to get Turtle Rock Studios to implement Speedo Hoffman into the game.
So what we all gonna do is I'm gonna go from content creator to content creator and I'm going to say:


"Let's all buy speedos and we're all going to take a picture together or all take pictures of ourselves in a speedo."
And I'm going to put all these pictures side by side in our most glorified pose ever.
At the bottom of it there's a banner that says #SpeedoHoffmanForBack4Blood, okay?


— SwingPoynt, Back 4 Blood content creator via Twitch
After an extended absence, Turtle Rock Studios returned to Twitch on April 22, 2022 to take a trip into the Ridden Hives which were introduced with the Tunnels of Terror expansion.
Community Manager 🐢burnttoast (playing Heng) was joined by guests from the developtment team:
🐢 Alissa, Marketing and Integrated Communications Manager, playing as Holly
🐢 bluejaysong, Community Coordinator, playing as Karlee
🐢 Dainslaif, Senior Mission Scipter, playing as Hoffman
During the stream, a user asked when Speedo Hoffman would become available and 🐢burnttoast picked up on that question[11]:
[Speedo] Hoffman skin when?
— 🐢burnttoast, Community Manager at Turtle Rock Studios
Which Hoffman skin?
— 🐢 Dainslaif, Senior Mission Scipter at Turtle Rock Studios
🐢burnttoast asked ironically what he meant by the question as if he didn't know which Hoffman skin was being talked about.
What do you mean "Which Hoffman skin?"
— 🐢burnttoast
Oh, the speedo. Okay. Nevermind

I wasn't reading the chat.


— 🐢 Dainslaif
Even though the question wasn't answered, it was remarkable that a developer would subconsciously link Hoffman to Speedo Hoffman when a status question about a new skin for Hoffman was brought up.
Playable Characters
Cleaners
Mutations